Linzi Fairclough, whose 10-year-old daughter attends a local elementary school, was shocked to learn of the accident outside Fulwood Academy in Black Bull Lane shortly before 3 p.m. Wednesday.
That night, the 46-year-old woman said she was "unable to sleep" as she worried about the boy, who remains in serious condition at Alder Hey Hospital where he was taken by air ambulance. .
After a sleepless night, Linzi said she decided to act on her concerns and started a petition to seek safety improvements along the busy 30mph school route.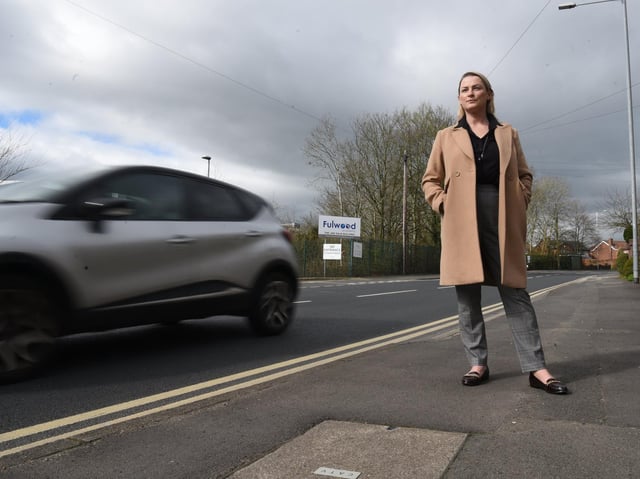 Since Wednesday's crash, more than 500 people have added their names to Linzi's petition, with city councilors among those giving their support. Photo: Neil Cross
"I spoke to friends because it really upset me," Linzi said.
"Being a parent and having friends that the kids have witnessed really touched me. Just hearing about a child being knocked over is a parent's worst nightmare.
"I've never started something like this before, but I just feel like I have to do something.
A 14-year-old boy remains in serious condition at Royal Preston Hospital after being hit by a van outside Fulwood Academy in Black Bull Lane at 2:55 p.m. Wednesday March 17th. Photo: Neil Cross
"That night I couldn't think of anything else but worrying about this boy, his friends and family – I pray that he will make a full recovery."
Linzi says her daughter, Lilly-May, is starting high school next year and the thought of her crossing the road on her own makes her "frantic with worry."
She said: "I am the mother of a 10 year old who is due to start high school in September and to say I'm worried is an understatement.
"Fortunately, she will avoid this road, but the worry it caused me is enough to know that if she walked this way, I wouldn't be able to rest on a daily basis. I would be frantic."
Police said their investigation into the incident was ongoing, but there was no indication the driver, who pulled over at the scene, had accelerated. Photo: Neil Cross
After witnessing the traffic in Black Bull Lane on her daily walks with her dog, she says "something needs to be done". Linzi suggested a level crossing near the entrance to the school, as well as baffles, to help prevent any future accidents.
She said: "I live in this area and have been doing most of my life walking past school everyday and it is clear that it is not safe for children to cross.
"Wednesday's incident just confirmed my fears and made me feel the need to act. Things need to change. I can't ignore it."
Linzi's campaign, "Make Black Bull Lane Safe for All", received support from Fulwood Academy. But the school principal says children also need to be made more aware of road safety, in addition to any new traffic calming measures.
Linzi Fairclough, 46, whose 10-year-old daughter attends a local elementary school, has petitioned for traffic calming measures in Black Bull Lane after a 14-year-old schoolboy was injured outside of the Fulwood Academy on Wednesday March 17th. Photo: Neil Cross
Dave Lancaster, Principal of Fulwood Academy, said: "Every principal wants to make their school as safe as possible, and we will support any initiative that helps manage traffic outside of our academy.
"Anything we can do to protect our students is obviously incredibly important.
"What is vital, however, is that we look at all possible steps we can take to ensure that accidents are avoided.
"Physical measures must go hand in hand with educational initiatives."
Read more
Read more
Leyland's mother urges hit-and-run driver to "come forward" after her 12-year-old son was run over …
City Councilor Phoenix Adair also expressed support for additional road safety measures on the route.
They said, "Linzi contacted my fellow Ward Councilors and I to let us know about the petition she had set up and I immediately signed it and offered her support.
"We are delighted that Linzi has put together a petition which has now been signed by more than 500 residents, which will add more weight to our calls for the county council to do something about trafficking in the area," in particular with the number of schools on this section.
"There really needs to be a passageway to help schoolchildren and local residents cross the road safely. We encourage residents to stand up and make their voices heard by signing the petition.
Lancashire Police said their investigation into the incident was ongoing and it was "too early to say categorically what had happened and who, if anything, was at fault". But the force confirmed that the driver had stopped at the scene and that no arrests had been made.
Lancashire County Council, which is responsible for the road, said it is awaiting the outcome of the investigation before considering whether further traffic calming measures are needed.
A spokesperson for the council said: "We are very sorry to hear of this incident and wish the young man a good recovery.
"Once the police have completed their investigations and we have received their report on the circumstances of this incident, we will consider whether there is anything we could reasonably do to reduce the risk of a similar incident occurring in this place in the future. "
Linzi says she hopes her petition will lead authorities to review busy roads in school areas and prevent further tragic accidents in the future.
She said: "If the petition gets the ball rolling and gives those with the power to change things to think about it, then I will be happy.
"If another school trip can keep one more family from going through the hell this boy's family is going through right now, then it's worth it."
You can read Linzi Fairclough's petition here.
Source link