Courtesy of Kenny Wehn ​​With just one flat tire, no accidents and a ninth place finish, Durango's Sam Vickery got everything he wanted from the UNBOUND Gravel XL event last weekend in Flint Hills, Kansas.
Durango rider ninth overall after 357 miles in Kansas
All eyes on the UNBOUND Gravel event last Saturday in Kansas were on the 200 mile bike race with professional WorldTour riders lining up against stars from the world of mountain biking, cyclocross and cycling on gravel.
But by the time these top pros lined up to start at 5 a.m. on June 5, a few brave self-employed runners had already raced through the Kansas Flint Hills for 14 hours.
One of them was Durango's Sam Vickery, who took on the UNBOUND Gravel XL event which covered 357 miles from the start in Emporia, Kansas.
After an incredible start with the lead group for the opening 80 to 90 miles, the 25-year-old settled down at his own pace with his eyes on the finish.
A 2017 graduate of Fort Lewis College and a former student of the FLC cycling program, Vickery weathered the heat of the day and fought the urge to sleep at night to finish in ninth place in 25 hours, 58 minutes, 9 seconds .
"It's still surprising. You have so many doubts and uncertainties. The mileage is intimidating, "Vickery said Wednesday after returning to Durango. "Immediately crossing the finish line is a tremendous sense of accomplishment. With a few days to reflect on everything that has happened along the way and how cool it is and how nice it was to be there and to reach the finish line is overwhelming.
The XL distance was won by Taylor Lideen, 31, of Phoenix, who finished in 22:57:14. Only 23 years old, Will Loevner of Allison Park, Pa., Would finish second in 24:32:40. Vickery and Loevner were the only riders under 30 to finish in the top 35. Alaskan Lael Wilcox took first place in the women XL. The 34-year-old finished in 26:55:24, 12th overall.
Courtesy of Kenny WehnRolling through the Kansas Flint Hills for 357 miles, Sam Vickery was proud to finish ninth at UNBOUND Gravel XL.
The last rider to complete the XL arrived in just under 36 hours. Only 46 runners achieved the feat.
UNBOUND Gravel, the nation's premier gravel event, has become a destination for many top riders for the 200 mile event. The 350-mile XL race was born in 2018. The distance is not the only difference between the two, as the XL is also an unsupported effort of the participants who cannot receive any outside help in terms of food and equipment. water or bicycle maintenance. .
This meant that athletes had to rely on commercial services to restock, and that came mainly from convenience stores and any water faucets they could find along the way. Most were 70 to 80 miles apart.
"UNBOUND Gravel is kind of the big daddy of gravel racing these days," said Vickery, from Littleton. "For some reason, I've always been very intrigued by distance (XL), adventure, and the ethic of self-reliance. I wanted to do it in 2000, but the race was canceled. I finally got the chance this year and was ready for a big challenge and a big adventure.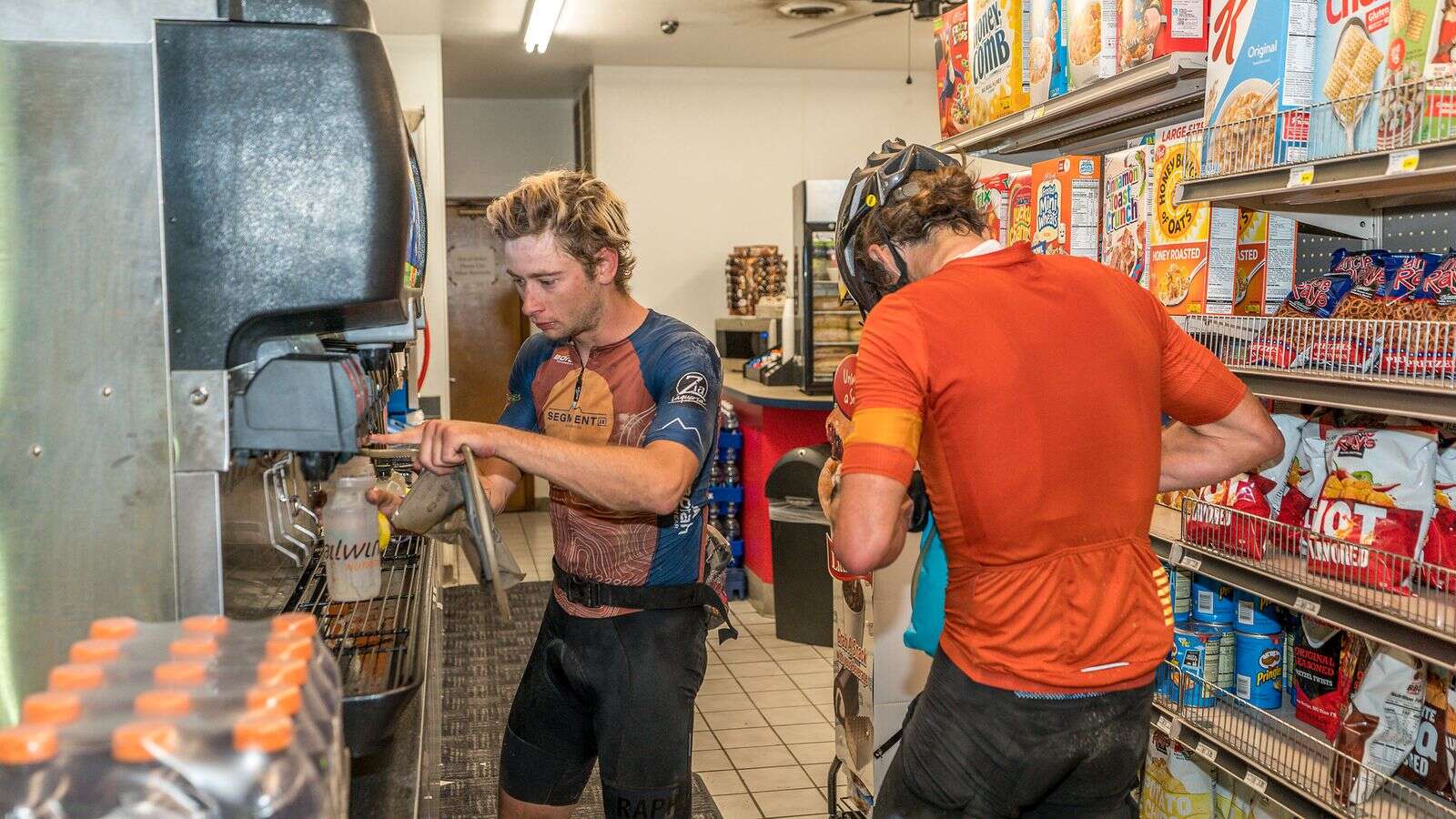 Courtesy of Sam Vickery of Kenny WehnDurango refills his bottle during a convenience story in Kansas during the night of the UNBOUND Gravel XL 357 mile race last weekend. Self-funded event, cyclists had to find their own means of supplying themselves with food and water during the effort.
Riding for the new Durango-based Team Segment 28 team operated by Vickery and Rotem Ishay, Vickery rode a bike that didn't differ much from his usual specialty cyclocross other than the addition of aero bars.
After a 3 p.m. start on June 4, Vickery was happy to ride with the leaders before stepping back and riding alone for about 40 miles, knowing he had to go back to make sure he didn't run out. too early.
At Mile 118 at the second refueling point, Vickery overtook eventual fourth place Jay Petervary of Idaho.
"We rode together pretty much all night, eight or nine o'clock until I had a puncture and he kept going," Vickery said. "It was nice to have someone to ride with all night long. We didn't talk too much. Head down, tapping on it, at least someone else is there and we can keep pace and keep awake. He is a legend of this ultra-style race. It was special to be with someone of that pedigree on the night in a grand ultra.
Vickery said the heat on day two was the biggest problem he felt the rest of the way. The only flat front tire he was able to fix quickly was his only mechanical problem.
"The hallmark of this race is that it's known to beat the crap out of the bikes. To get away with a really minor downside, I feel very lucky, "he said.
Courtesy of Kenny WehnSam Vickery said he had only eaten rice and eggs in the days leading up to UNBOUND Gravel XL to refuel on carbohydrates. At first, he packed a banana, peanut butter pretzels, cookies, and beef jerky before restocking himself at gas stations, where sour cream and cheddar chips and a few cheeseburgers called him.
At the finish line, one of Vickery's roommates, Stephan Davoust, a pro mountain biking star in the United States, was there to greet him with a cold beer. And as soon as he got back to his rental home, Vickery was finally ready to sleep and rest his bruised hands from so much time on the handlebars and a stiff back and neck.
And in the end, the finish was the only result that mattered.
"It's super naive, in my opinion, to go into a race like this thinking about a result," he said. "It's just you against the course, keeping your bike together, and the # 1 goal is to finish. That's 100% what I was after I got into the thing.
Courtesy of Kenny WehnSam Vickery drove 357 miles of Kansas dirt roads last weekend in the UNBOUND Gravel XL event that kicked off in Emporia. He said he was in awe of the beauty of the Flint Hills on the ride.
200 miles
Two of Durango's top professional cyclists lined up for the 200 mile race.
Quinn Simmons, a 20-year-old WorldTour cyclist for Trek-Segafredo, and Payson McElveen, a 28-year-old experienced UNBOUND gravel racer representing the Orange Seal Off-Road team, left the start line at 5 a.m. on the 5th June.
Simmons, in his UNBOUND debut, would crash after trying to get back into the top group following a flat tire. After about 55 miles, he gave up racing and went to a nearby hospital to receive knee stitches.
Scheduled to leave for Belgium the next day for the Tour de Belgique and preparation for his Tour de France debut, Simmons returned home to Durango to recover. He hopes to heal in time for next week's USA Cycling Pro Road Nationals in Knoxville, Tennessee.
McElveen, who battled the disease all week before UNBOUND, said he didn't have the performance he was hoping for in Kansas but could be proud of with a 27th place finish in 12:05:01. He finished alongside fellow former FLC rider Ryan Standish, who at the same time finished 28th.
McElveen was at the forefront, feeling well, but quickly had a mechanical problem that required assistance, which he received from other pilots. But the big problem would put him 20 minutes from the leading group.
"For the remaining 10 hours I rode for the simple purpose of finishing – to give this special event the respect it deserves", McElveen said in a post on Instagram. "It was an absolutely brutal day riding alone with a head of 20 mph and cross winds for the majority of the second 100 miles. … surviving every help and trying to exchange a few positive words with every runner I met was key … counting 667 "his" and "good job!" Was like a tailwind and engaging mind game. Leaving the final help, I joined a long time friend (Standish) and we completed the last 50 miles together. We met a few other friends along the way and ended up together, all grateful for the quality of the business.
The men's 200 mile victory went to Ian Boswell of Vermont in 10:17:24, while Laurens Ten Dam of the Netherlands was second in the sprint. Former WorldTour rider Peter Stetina was third in 10:18:35, while Ted King was fourth at the same time and Colin Strickland was fifth in 10:25:34.
The women's victory went to Lauren De Crescenzo of Atlanta, who crossed the finish line in 12:06:49 to place 31st overall. Amity Rockewell of California was second in 12:22:15.
For all riders, UNBOUND represented an opportunity to reconnect with the cycling community, as the gravel event brought together those from all disciplines and brought them together once again after a year of race cancellations caused by the COVID-19.
"I always tell people that I don't ride a bike or anything to be a bike racer, it's for people in the community," Vickery said. "Spending a year without it was difficult. It's our community, our support group and who we love to be with. Finally getting the chance to be back with these people and catch up and run meant a lot and it was so good. "
Courtesy of Kenny Wehn ​​For many, including Durango's Sam Vickery, being back on the starting line for UNBOUND Gravel was one of the best parts of the weekend.