Banff caps e-bike price at $5,000 for rebate program eligibility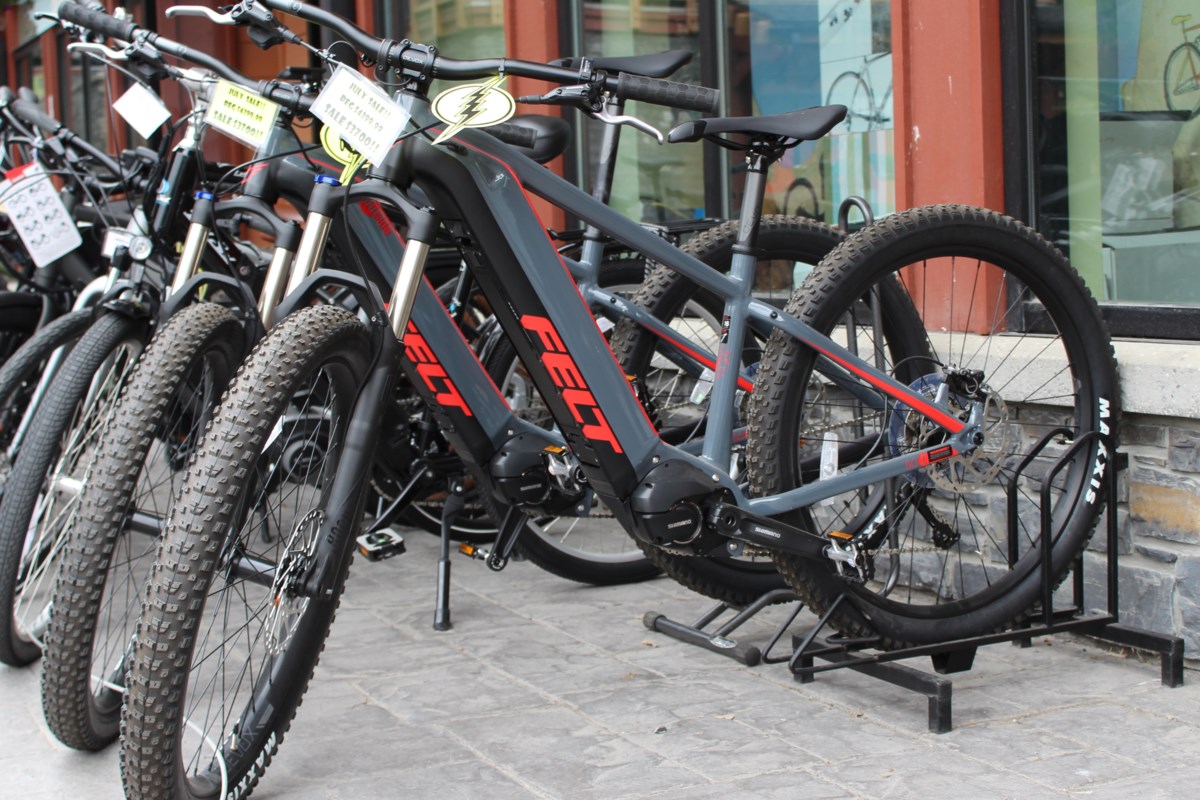 "Really nice mountain e-bikes and road e-bikes are a little over $5,000, so I think $5,000 is a good cap for a commuter-style bike."
BANFF – The Town of Banff is preparing to roll out its new electric bike rebate program.
The $42,000 program, which will be funded by profits from paid visitor parking, won final approval in the 2022-24 operating budget and is expected to be introduced in late February.
Councilor Barb Pelham succeeded in her attempt to cap the cost of an electric bike at $5,000 as part of the eligibility criteria.
"The intent of this motion is to ensure that e-bikes purchased with this grant are e-bikes whose primary function would be to get around town," she said.
"Really nice mountain e-bikes and road e-bikes are a little over $5,000, so I think $5,000 is a good cap for a commuter-style bike."
There are many types of e-bikes, some with only a small motor to help the rider pedal. Electric bikes use rechargeable batteries and can travel up to 25-32 km/h.
Councilor Kaylee Ram expressed her strong support for council. Pelham's decision, saying the cap on the price of an e-bike means the rebate program will not be abused.
"The priority for this is really for people who couldn't afford an e-bike to begin with, or those who want to get more into it, or have as their primary mode of transportation," she said.
"The likelihood of them being able to afford anything over $5,000 is minimal and that's just to make sure that priority is really given to those who want to use it as their main mode of transportation and not as a another addition to someone's garage."
The $42,000 program — up to $40,000 for e-bike rebates and $2,000 for marketing and communications — will buy between 40 and 80 e-bikes.
The program includes a 30% rebate of up to $750 on the total purchase per residential household, and a 20% rebate capped at $750 for businesses, with a maximum of two e-bikes per business.
There is also a sliding scale for residents who are part of Banff's low-income access program – 50% or up to $1,000 of purchase cost for Tier 1 and 40% or up to $900 purchase cost for level 2.
Town of Banff officials say the incentives are effective because the average price of an e-bike — around $3,500 in North America — can be a significant financial barrier, especially for low-income people and families. .
With the recent e-bike boom, they say researchers have begun to study e-bike purchase incentive programs and have found that they can be an effective tool for reducing regular vehicle use.
"Recent studies have shown that e-bikes encourage riders to travel farther and more often than traditional bikes," said Michael Hay, director of environment and sustainability for the Town of Banff.
Hay pointed to a study in the United States that found that 62% of e-bike trips replaced trips that would otherwise have been made by car. Of these, 45.8% were home-to-work or school trips.
"Another study of loaner e-bikes found that compared to before the trial, the number of people bicycling to work in the study group doubled, from 28% to 59%," said he declared.
Councilor Hugh Pettigrew tried tirelessly to include conventional pedal bikes in the discount scheme, but lost in a 5-2 vote with support coming only from Coun. Ted Christensen.
He said the cost of an e-bike, even with the discount, was beyond most people's financial means, adding that the municipality was creating a two-tier system without adding regular bikes.
"I don't think anyone on minimum wage, with tips in some cases, can even get a loan to buy a bike like this, let alone be able to buy one for themselves," he said. -he declares. noted.
"Not everyone has the same means to participate in these programs."
Mayor Corrie DiManno highlighted the sell-off of lost and found regular bikes collected by the By-Laws Department throughout the year.
"They sell bikes for $20 to $25, so we have a program where we're trying to market bikes very affordably and I think we're meeting that need right now," she said.
Mayor DiManno said bike racks in the summer are filled to the brim with conventional bikes and added an e-bike rebate program aimed at encouraging the mode shift.
"So we don't need to encourage conventional cycling, but I think we still have a long way to go in terms of creating infrastructure for conventional cycling," she said.
Councilor Olver also voted against the inclusion of conventional bikes, saying the jumble sale and the nonprofit Community Cruisers help residents get on bikes at reasonable prices. However, after a break in the meeting of several hours, the adviser. Olver came back to say she wanted regular bikes included in the discount program.
After losing the vote on his motion, Coun. Pettigrew then tried to reduce the rebate program from $40,000 to $20,000 — the original amount the administration proposed when the service review began.
"I'm a little disappointed that people who can't afford an e-bike are thought to have to settle for a used or repaired bike…I was hoping to bridge the gap between those who can and those who cannot", he said.
"If we can't do that, I will definitely make a motion to cut that budget in half," the adviser said. Pettigrew, with the vote ending 5-2.
Mayor DiManno said the $40,000 would be enough for discounts ranging from 40 to 80 e-bikes.
"I think it's going to be extremely popular, so I want to give the wiggle room up to $40,000," she said.
In Canada, e-bike rebate programs are offered in different models in various provinces and cities.
The City of Edmonton launched a 30% rebate of up to $750 in 2020, which was fully subscribed within the $50,000 allocation. The Yukon is offering a 25% discount of up to $750 for a standard e-bike and $1,500 for a cargo bike. Nova Scotia introduced a $500 point-of-sale rebate program for e-bikes with a total purchase price of more than $1,200.
BC's Scrap It Vehicle Program offers individuals $1,050 to purchase an electric bike when scrapping an old vehicle, and BC's Cargo Bike Pilot Program offers a 33% discount up to $1,700 to participating businesses.