Bike auction organizers never tire of making matches | Apple valley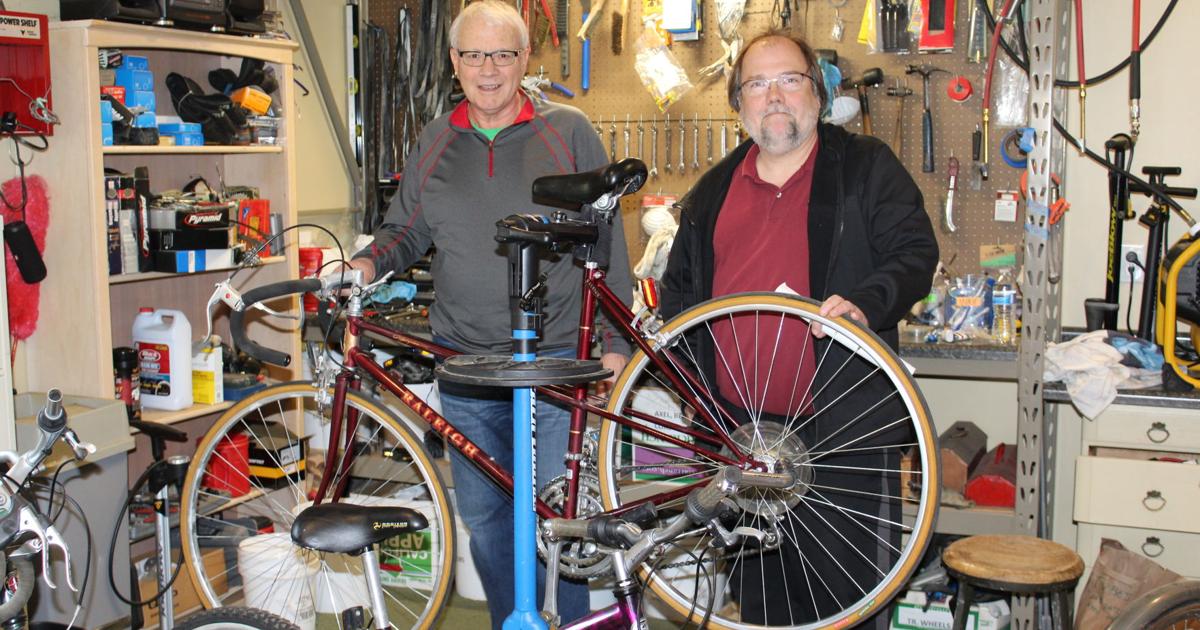 Rick Anderson's 10th Annual Bicycle Sale is May 12
Rick Anderson knows the right game can make all the difference.
For more than a decade, he's been paired with two brothers as part of Kids' n Kinship's mentorship program – the older one is finishing his final year of college and the younger is 15.
Anderson got involved after his two sons went to college. He said the house was quiet and that he and his wife missed having the boys around. Kids' n Kinship was the perfect opportunity.
"There are six children in their family. The mother is a pediatrician, and she has always been single, and she adopted these six children from Russian orphanages, "Anderson said. "She just wanted to show them a normal marriage situation."
Anderson and his wife were the perfect match, and they continue to coach the boys today.
Ten years ago, Anderson found a way to support Kids' n Kinship while creating his own kind of perfect matches. At Rick Anderson's annual bicycle sale, he associates people with bikes. Throughout the year, it collects donations of used bikes. With the help of other volunteers, he cleans, repairs and refurbishes bikes in his own garage, then stores them until the annual spring sale.
"Sometimes someone is looking for a bike to get around, and we help them find a good fit," Anderson said. "And sometimes you get a bike from the '70s, and someone sees it and it's the exact color and style they were looking for – I mean, it's a perfect match for a bike they had. . "
Anderson got his start with the bikes thanks to his own Perfect Match. As a child, he hung out in his friend's father's Schwinn bicycle store.
"I grew up in some kind of shit housekeeping, and I think the owner of the bike shop saw it, and he would invite me over to help," Anderson said. "I was about 8 years old when I started assembling single-speed Schwinns."
He worked at the bike shop during junior high, high school, and summers in college.
"If you look at him, he was an unofficial mentor to me," Anderson said. "He greeted me, gave me advice and good things resulted."
"I'm the mentor to this family and they all need bikes," Anderson said. "And I tweak them, I fix them, and I found that I could buy bikes at a garage sale, fix them, and sell them for more."
Over the past nine years, the sale has raised over $ 130,000.
"These bikes are coming out of the woods. We don't even have to ask for those bikes now. We're at full capacity in terms of storage, and we're getting very selective at this point for this year, "said Anderson. "And our list of volunteers is long. People want to help with the sale.
Anderson is still impressed with the growth. In the first year, he sold 42 bikes and raised $ 1,200. This year, Anderson hopes to sell more than 500 bikes and raise more than $ 34,000.
Much of the success of the sale came from expanding the network of donors and buyers of the sale. Five years ago Randy Bailey called Anderson and asked if he needed help. Anderson made a meeting time and asked Bailey to pick up a load of donated bikes along the way.
Today, Bailey spends over 20 hours a week repairing and preparing bikes for sale – the most time of any volunteer.
"It's the Energizer Bunny," Anderson said. "He doesn't stop; it's just go, go, go.
Bailey also grew up in Austin. Mechanics, he said, were a necessity of country life, and it was there that he learned to repair bikes.
When Bailey partnered with Anderson, he brought his toolkit, but, as a retired math teacher at Eastview High School, he also brought a network of potential donors and buyers of alumni, parents and community members.
"I love giving money to organizations, but I also love bringing this bike back to life, keeping it out of a landfill, letting someone else enjoy it," Bailey said.
Bailey estimates that they were successful in preventing more than 2,000 bikes from ending up in the trash. The sale has been going on for so long that people are starting to return the bikes they bought in previous sales.
Now there are too many bikes for Anderson's garage. They stored the bikes in the volunteer garages and in a semi-trailer. Sales have also increased – from her driveway to her backyard, to her neighbors' courts and now to the Apple Valley Senior Service Center.
This year, for the first time, donations will be split between Kids' n Kinship and another organization passionate about creating twinning. DARTS is a community-based, non-profit organization that partners with seniors to help them improve their quality of life and stay engaged in their community.
"The partnership allows seniors to live where they want to live for as long as they can," Bailey said.
Bailey volunteers with the organization as a Snow Angel. He helps shovel the driveway for a senior in the area and helps with yard work as needed.
"Now we are supporting people at both ends of the age group with this," Bailey said.
Rick Anderson's 10th Annual Bike Sale will be held from 9 a.m. to 1 p.m. on Saturday, May 12 at the Superior Service Center, 14580 Glenda Drive. For more information, visit www.ricksbikesale.com.