Community bicycle sale benefits local nonprofits | Apple valley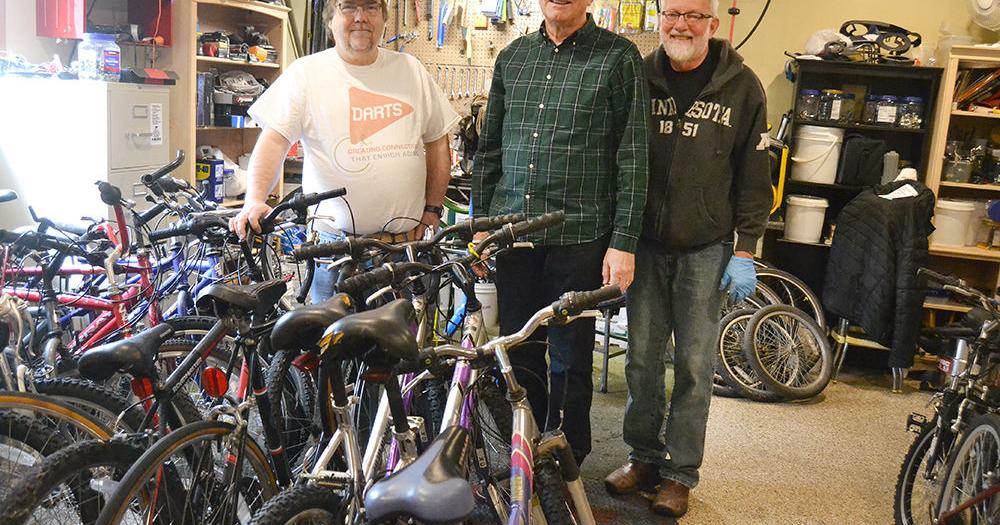 Rick's Bike Sale returns to Apple Valley in May
A community bike sale that benefits two local nonprofits will return to Apple Valley for its 11th year next month.
The Rick's bike sale will be held from 9 a.m. to 1 p.m. on Saturday, May 11, at the Superior Service Center, 14580 Glenda Drive in Apple Valley.
Proceeds from the sale will go to Kids' n Kinship, an Apple Valley-based nonprofit serving children ages 5 to 16 in Apple Valley, Burnsville, Eagan, Farmington, Lakeville and Rosemount, and DARTS, a West St. Paul-based non-profit organization that provides personalized and professional services to seniors and their loved ones.
"You are really supporting two great organizations when you get involved in the bike sale," said Randy Bailey, Apple Valley resident and one of the event's organizers.
Apple Valley resident Rick Anderson said he and his wife got involved with Kids' n Kinship after their children went to college. They have mentored two brothers for the past 11 years.
The bicycle sale began a little over a decade ago after Rick discovered he could further support Kids' n Kinship by refurbishing used bikes, selling them and donating the profits to the association, he said.
For the first eight years he organized the sale in his neighborhood, and then it was moved to the Superior Service Center when it got too big.
"Every year he grows. I think the very first sale I sold 42 bikes and made $ 1,200. Last year we sold 523 bikes and made just under $ 47,000, "he said. "This year we will have nearly 650 bikes available.
Over the years others have stepped in to help with sales – Bailey; Rick's brother, Dave; and Greg Thompson. Rick, Bailey, and Thompson do the mechanical work on the bikes, and Dave details and cleans them.
The bike sale only supported Kids 'n Kinship until last year, when the organizers of the sale decided to split the profits between Kids' n Kinship and DARTS. Over $ 176,000 has been raised and donated since the start of the sale.
Randy Bailey and his wife, Ann, first logged on to DARTS over a decade ago when they needed help for Ann's dad, who suffered from Alzheimer's disease. The couple started volunteering with DARTS; Ann eventually joined the board and was hired as president a few years ago.
Randy Bailey, a retired high school math teacher, said he used to see bicycle sales notices every year while still teaching, and decided to get involved when 'he would have more time. After retiring from Eastview High School in 2011, he contacted Rick and offered to help.
"It suits me in a lot of ways," he said.
Dave and his family started participating in bike sales around their second year and he got more involved after he retired from sales four years ago, he said.
Rick now says he rarely searches garage sales for bikes. He frequently receives calls and emails from people wishing to donate their bikes. The quality of donated bikes improves every year.
"We've been there quite a long time, I think we've gained a good reputation that it's a great place to donate this bike," he said.
Any bikes that would take too much work to repair are scraped for parts and recycled.
"Nothing we touch never ends up in a landfill. This is one of the things that we are a little proud of. We take care of it one way or another, "Bailey said.
With over 600 bikes on sale, people should be able to find something that will work for them, Rick said. There will be bikes of all colors and styles that typically range in price from $ 20 to $ 400. There are a few exceptions – last year a specialty bike sold for over $ 3,000.
"The big difference with our offer is that you can go through a garage sale and buy a bike. You can go to Craigslist and buy a bike. Our bikes are reviewed, "he said. "We clean them, adjust them, lubricate them. They are ready to roll.
Bikes usually sell out quickly, so organizers recommend arriving early. Monetary donations for Kids' n Kinship and DARTS will also be accepted. Anyone who purchases a bike can enter to win one of two $ 25 gift certificates for Dave's famous barbecue in Apple Valley, according to a press release.
Rick estimates that there will be around 50 or 60 bikes left after the sale. Most of the leftovers are smaller children's bikes. They donate the leftover bikes to other organizations such as schools, bike shops that do mechanical training for children and adults or JDRF (formerly known as the Juvenile Diabetes Research Foundation) .
Rick said they're always on the lookout for people who can help them repair bikes or store bikes. Currently, donated bicycles are stored in private garages and spaces donated by businesses.