Efficient Lighting Ideas for the Modern Bike Shop
Passers-by looking inside your store should be attracted by what they see through the glass. Bike shop design expert Gosia Adamska writes about her experience grabbing the customer's attention and effectively showcasing products…
Like product placement in a movie production, lighting is one of those in-store elements that might not even be noticed by your customer. Now you might be wondering why you should care about how your store is lit then. Why should you invest money in a well-done lighting design scheme when hardly anyone pays attention to it?
To start, take into account that we, as human beings, need sunlight to be healthy, not to feel depressed. Perhaps you have noticed how on a beautiful sunny day you suddenly get a boost of energy from nowhere and you feel like you can move mountains, that you are calmer and happier. This compared to very dark, dark and rainy days where you feel like dark clouds might suddenly fall on you. This contrast is day and night – lighting is important and it influences us a lot.
A good lighting design in your bike shop not only illuminates the entire space, but can also influence your customer's buying behavior. To make them feel good, you need to make sure that the product you're selling is viewed positively by the customer. How your customers will feel in your store depends a lot on how the store is presented visually.
Done poorly, lighting systems will tire your customers faster, so they'll leave your store before they even think about buying anything. It will also make your product less appealing, even if marketed well. On the other hand, too bright light can make clients too clinical. Even worse, an environment where it is difficult to perceive the details of the product, its color and its texture.
As part of the purchase decision, consumers like to first see the product and then touch it.
Showing the true color of a bike, apparel, helmet or shoe you are selling by using proper lighting is as important as telling your customer about it. Studies have shown that people make a subconscious decision about a product or environment within 90 seconds of viewing it and between 62-90% of that judgment is based on color alone.
There are different factors you need to consider when thinking about your bike shop lighting. Think about what area of ​​your store you are looking for, what product you want to show in priority, what type of customer you want to bring to your store, what mood you want to create and whether you want your store to be perceived as a luxury, high-street venue or a quirky, value-for-money venue.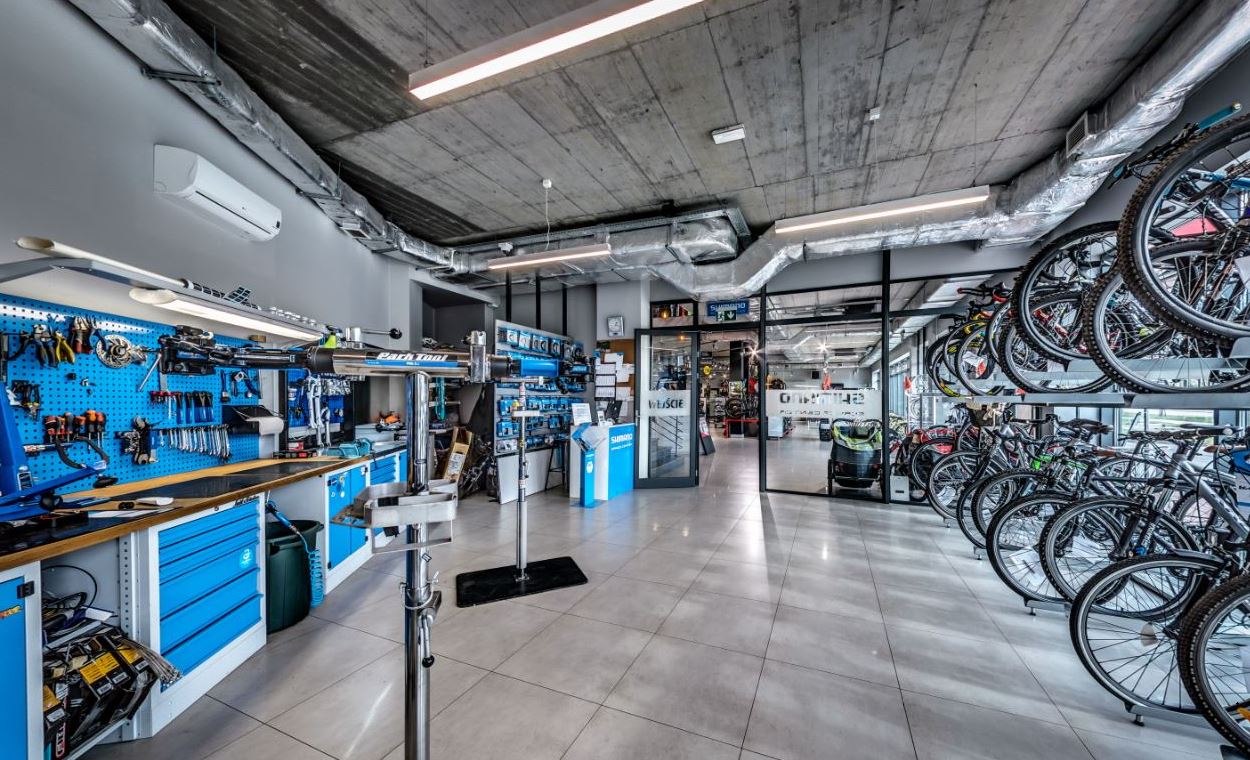 General bike shop lighting should be evenly distributed throughout the shop so that there are no dark corners or poorly lit products falling out of view. The exterior of your store, the window and the entrance to your store are a first point of contact with your customer. Therefore, it is especially important to create an eye-catching element here using warm and welcoming lighting and display.
Bikes and all other products that you want to most attract your customers to need additional directional lighting to highlight it to the customer's attention. In your locker room, your client should feel flattered and look better than in the mirror at home. This can be achieved by placing lighting on both sides of the mirror which is warm in color. The service must have sufficiently bright, but not dazzling, lighting. Many find that lighting placed above benches and work stands is easier to work on bikes, but the multi-directional can be useful for capturing detail while working.
A well-designed lighting scheme is not only used to illuminate the interior and exterior of your store, but if executed thoughtfully, it is also a great tool that will help you achieve your design goals. sale.
Did you like what you heard from Gosia? Read his previous articles here.