From chains to tires, many basic bike parts that are hard to find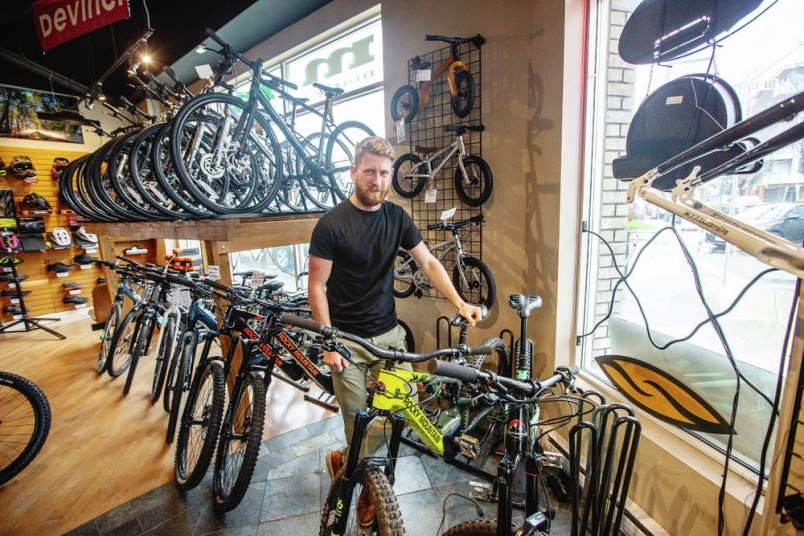 "In fact, I would say it's crazier now than it was a year ago, if you can believe it"
A huge round of bicycle sales and repairs that began in the early months of the COVID-19 pandemic shows no signs of abating, with some parts not being available next year.
A high-end type of brake could take until October 2022 to reach consumers.
"I would actually say it's crazier now than it was a year ago, if you can believe it," said Evan Girard, Marty's Mountain Cycle staffer. "It's wild."
Around the same time last year, many people were off work and had more free time to spend with their families, fueling interest in bicycles, he said. "They were sort of looking for things to do and hopping on bikes and using them as an outlet, to be outside and get active."
At the same time, many suppliers of bicycles and bicycle parts were shut down for about three months after the start of the pandemic, creating a "significant backlog" of needs in stores for the 2020 and 2021 model years.
The bikes and parts just weren't produced so quickly, Girard said.
"The bikes that we expected to see in September, October, November of last year, we only saw December, January, February of this year," he said. "So on the one hand you have a product that doesn't show up when we expected it, and then you also have people who are always trying to be active, trying to get started.
"And then these people who went in there last year need repairs, they need to replace the consumable parts on their bikes."
Conor Conley, owner of Russ Hay's Sidney The Bicycle Stop site, said the early part of the pandemic made him wonder if he could stay in business. Then things turned around and sales exploded.
He doesn't expect much to change for at least a year. "I have mostly empty shelves," he said. "Delivery, raw supplies, availability of the product in period, it's bad."
Conley said he saw about a 30% increase in demand during the initial push. Since then, planning has been an important part of the job.
"Hope I did a good job last summer on ordering and then hope to get everything I ordered again," he said. "If anyone needs something today and we don't already have it in the pipeline, it will probably be next year.
"I have been in the bicycle industry for 20 years. I have said no to more people in the past month than in the rest of my career.
Girard said that basic parts such as bicycle chains are scarce for repair work, as they are mainly intended for new bikes due to pent-up demand. "So there are no chains to put in bike shops for people who have to replace a broken chain or have to replace a worn chain. "
Still, general repair work is in full swing and took place during the generally quiet period from December to February.
"We were about as busy during those months as we normally are in the spring, and now we're setting aside three to four weeks," Girard said. "Normally we're only a day or two away, just in terms of repairs. "
Spring tune-ups, which should normally start in earnest now, have already happened en masse.
Bike sales have been particularly strong for some models, Girard said, with 2021 stock running out in mid-February.
"We can't complain too much," he said. "We're obviously always busy and doing what we want to do, but this poses unique challenges."
One problem is that some of the bikes delivered are not complete – some are missing components such as seats, tires or brakes due to sparse parts. Store owners must complete the package.
"We've done a lot more, but it's something that has never really happened before," said Girard.
While at some point anyone who wants a bike will be able to get one, the problems getting parts are expected to persist for much longer, he said.