Opening of a new bicycle shop in Saint-Pierre | Millennium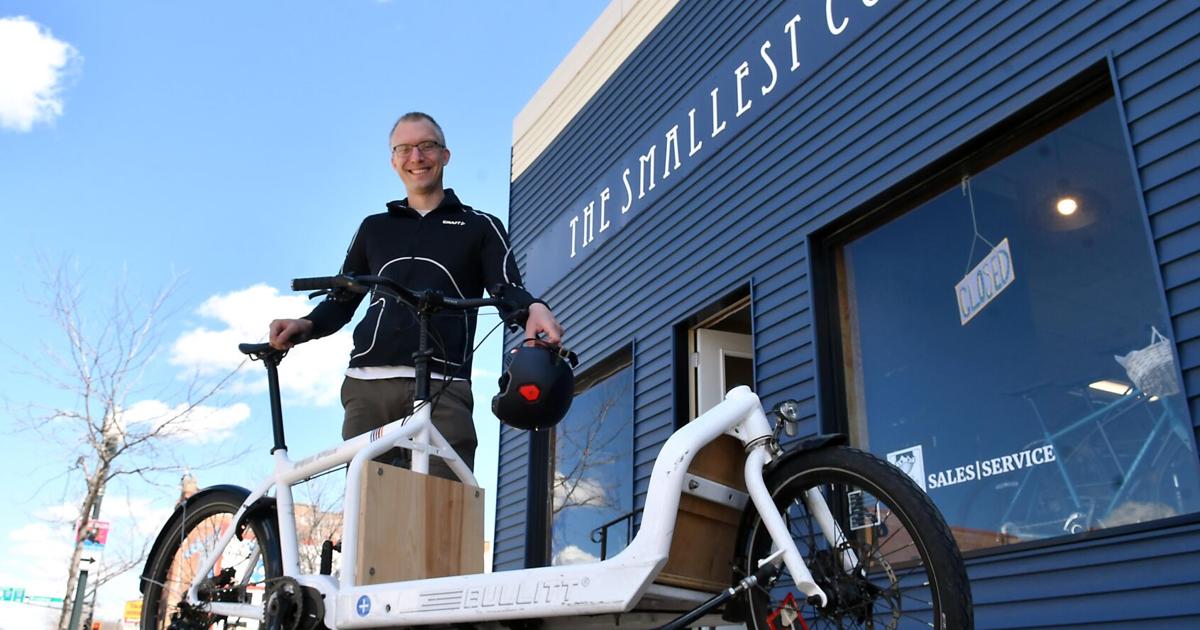 At 10, Mark Plotz loved riding his bike at Hoover Elementary School in North Mankato, the rack almost always full. Three decades later, his continued love of two-wheeled transportation prompted Plotz to open a bike shop in downtown St. Pierre, The Smallest Cog, in October 2020.
"I have memories of that completely full bike rack," Plotz says. "That's one of the things that really changed. And it's a shame… The bike is no longer standardized.
Plotz would like to change that, combining his enthusiasm for cycling with his experience in planning and making communities more friendly to cyclists. But his trip back to the Minnesota River Valley and owning a small business was far from conventional.
The 1993 graduate of Mankato West High School has strayed from time to time, but his love for bikes and that cleanest, quietest mode of transportation has never lost its soul. A political science degree from Gustavus Adolphus College sparked a commitment to public policy. After two AmeriCorps terms, Plotz followed with a master's degree in public administration from Minnesota State University, Mankato.
From there it was Washington, DC, and a 20-year career as a community planner.
"I wanted to explore the nonprofit world and I wanted to leave Minnesota," Plotz recalled, then joked, "At some point, you have to grow up."
From 2008 to 2016, Plotz fell in love with his home in the Mount Pleasant neighborhood of Washington, DC, with its mix of diversity and educated young professionals. And its sidewalks and paths suitable for pedestrians and bicycles were safe and friendly.
"It's a really cool town," Plotz said in a recent interview at his St. Peter bike shop at 115 Minnesota Street. "We had the only street in all of DC where everything worked perfectly."
He was the planner in him.
"I was driving my car maybe once a month," Plotz said. "I cycled and walked everywhere."
Still, "it was never intended to stay" in DC, he noted, and two events shaped his future plans. While working a regular five-day week as a community planner, Plotz was offered a weekend job at the Bicycle Pro Shop in the Georgetown neighborhood, where he was a frequent customer. Working as a bike mechanic has become "the best job I've ever had".
"I found it to be a much more rewarding job than urban planning," Plotz said.
It was a "successful" OkCupid date in 2015 that helped launch his next venture, a marriage to Philadelphia native Amanda Malkin. And while Malkin was from "one of those old East Coast families," the high cost of living convinced them to try and move back to Minnesota in March 2018.
The smaller Cog bike shop has become a first reality in downtown St. Paul. The corner storefront location seemed perfect, with a popular microbrewery and pizzeria nearby, and light rail transit nearby.
"As far as urban planning goes, it was a dream," Plotz said. "It was a neighborhood that worked."
Plotz said this "self-funded" venture allowed him to establish himself as an independent bike shop and grow well in those first two years in St. Paul.
"We really had our feet under us in 2018," Plotz said. "And we more than doubled our gross in 2020."
But the birth of twin daughters, coupled with vandalism at their downtown St. Paul store and the theft of an expensive bicycle, prompted the couple to seriously consider a move.
"It became pretty clear that the owner-operator concept (in St. Paul) wasn't going to work," Plotz said.
Wife Amanda Malkin brings a unique talent to the area by starting an art conservation business. Plotz said his wife might be one of the few in southern Minnesota. But she also contributes mightily to The Smallest Cog, he added, as co-owner and manager.
"Amanda makes sure we follow state and local laws," Plotz said. "She is the creative force of our company. And as someone relatively new to cycling and one foot shorter than me, she is my bridge to people whose cycling experience is often very different from mine.
Return to the Greater Mankato region
Why Saint Pierre?
"I went to Gustave. I knew St. Pierre didn't have a bike shop," Plotz said. "And the city welcomed us."
Ed Lee, executive director of the St. Peter's Chamber of Commerce and cycling enthusiast, said The Smallest Cog is a great addition to the downtown historic district.
"We love businesses that drive foot traffic along our downtown sidewalks," Lee said. "The Smallest Cog is all about that, inviting pedestrians who are curious to recreate or even get around on two wheels."
And for Lee, who often takes a bike trip to the Twin Cities area or regional tourist attractions, adding a top-tier bike shop and experienced bike mechanic to the community should help. develop a more bike-friendly community here. And there is a ripple effect for other companies, he added.
"Unique locations make a destination like St. Pierre more appealing to more people," Lee said. "A visitor may come here with the intention of shopping only at the bike shop, but we all know what happens. The visitor ends up appearing in several places of interest, making known how Saint-Pierre is cool, then returning at various times of the year.
But it's Lee's love of bikes that also gets him excited about the addition of The Smallest Cog Bicycle Shop.
"We all have a connection to bicycles because as kids, bicycles were our means of transportation," Lee said. "As adults, we discover that bikes are even more fun than they were when we were kids."
Plotz hopes to help shape a more bike-friendly community in St. Pierre, though he adds that city officials have "done a good job" designing friendly trails and sidewalks. The Plotz and Malkin family live in the Nicollet Meadows neighborhood, with a good mix of sidewalks and an underpass that allows for safe walking to local schools and daycares.
"Sidewalks should be viewed not as amenities but as important infrastructure," Plotz stressed. He is also using this planning expertise in a new volunteer role, joining the city's Planning and Zoning Commission.
"And I love the news," Plotz said. "I'm progressive and I'm not running away."