Retail experience guru Donny Perry talks about a modern bike store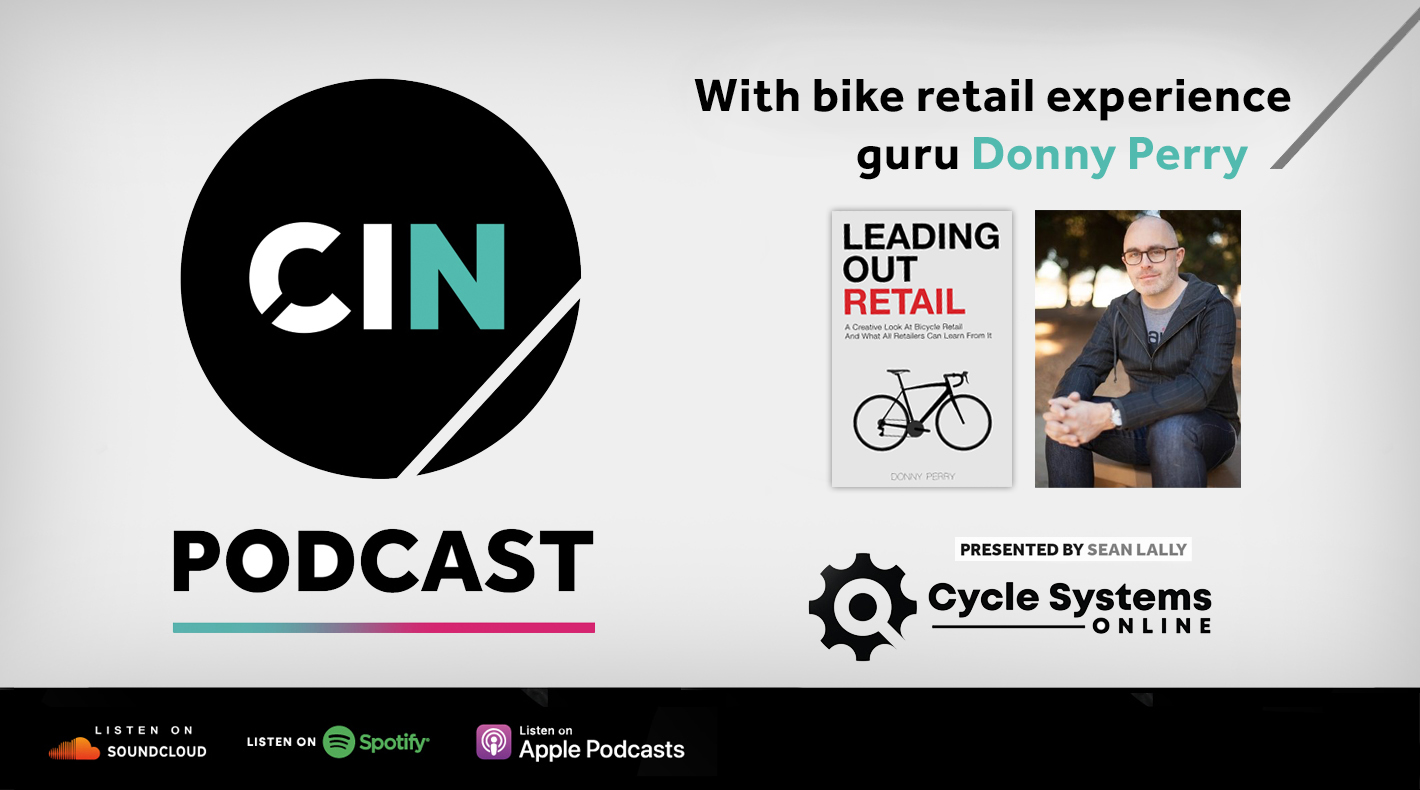 The guest on CyclingIndustry.News' second podcast of 2022 is one of the brightest minds in the bicycle retail experience, author of a bestselling book on the subject and Director of Retail Experience Fox Racing retailer Donny Perry.
Leading Out Retail, despite being around for nearly a decade, has been widely hailed as a must-read for the bike shop manager. At 240 pages, the Bike Shop Bible covers vast ground in a way that any Bike Shop staff member will be able to relate to. Topics cover staff training, merchandising, the bike shop experience from a consumer perspective, marketing your business, shop efficiency, and business organization.
Now hosted by Cycle Systems Online co-founder Sean Lally, CI.N's podcast seeks to find out from Donny how the bicycle retail experience has evolved over the years and what, if was writing an update on the book, could be included. facing modern business challenges.
As consumers enter bike shops (and indeed retailers of all kinds) looking for higher levels of experience, Perry says of a shift in focus towards the community built around a business: "Fidelity can be a myth that we tell ourselves. I would be very careful about this, the consumer can change their point of view on things without much influence, it can be a different price, a new sport they are getting into, a different emotional connection or location elsewhere. Loyalty due to personal brand affiliation is quite rare. I would build a business on a balance between acquiring new customers and building customer loyalty. if that balance isn't healthy, that's something to consider.
Perry advocates looking at ourselves to see how we personally buy, or perhaps are influenced by factors related to the shopping experience, applying this mentality to customers who might enter.
The conversation then turns to the notoriously low salaries in the bike market on the front line in the workshops or on the sales floor. How can bike shops strike a balance that both suits the company's bottom line, but also provides employees with growth opportunities that match their contribution.
"When it comes to salaries, getting the most out of people at the lowest cost is in every company's DNA. That's not a bad thing, it's not any business owner's fault, it's just the way businesses have naturally evolved to operate. For this to change, people at all levels of the company need to have some sort of quantifiable measure of their contribution. If a point-of-sale system or business doesn't capture every employee's data, those employees don't have a tool to consider in a conversation about their pay rate. I look at it from both sides; what is the growth development opportunity? How much do they learn? Where are their promotions? What is their capacity for long-term growth? And then when it comes to what they get paid, does the employee have the option to say "hey bike shop owner, I've created so much value for you and so I think I deserve so much in return."
There's also a lot more ground covered in 50 minutes of conversation, so tune into Soundcloud here, or if you prefer, Spotify here.
To listen to the latest episode with legendary bike designer Mike Burrows, head here.