Rogers Park artists fill neighborhood potholes with used bike parts and tiles: "Functional art is cool"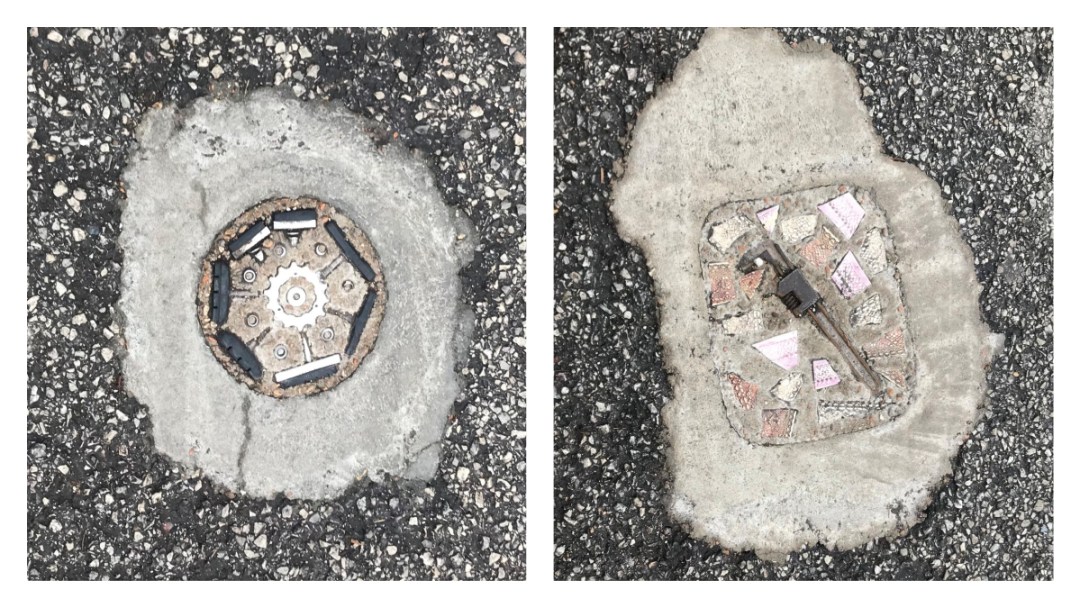 ROGERS PARK – The Far North Side has seen some of its crumbling streets and sidewalks repaired in recent months, but town workers or construction crews haven't done the job.
It was the work of Rogers Park artist Tzippora Rhodes and his collaborators, who used recycled bicycle parts and decorative tiles to fill in sidewalk cracks and potholes.
The project aims to make the area more accessible to all kinds of people, and perhaps to make a stroll or stroll around Rogers Park and West Ridge a more joyful and artistic experience, Rhodes said.
"I think functional art is cool," Rhodes said. "I wanted to make a small dent in mobility and be a little practical" with the artistic project.
The project is funded by a $ 7,500 grant from the AARP, which provided the grant as part of a program to make communities safer for people with reduced mobility.
The grant was awarded to The Recyclery Collective, a Rogers Park-based nonprofit that repairs and recycles bicycles to prevent them from being landfilled. Rhodes, a member of the collective, applied for the grant.
Rhodes' idea was to use discarded bicycle parts and cement to patch up the potholes in the streets of Rogers Park. Rhodes collaborated with local artist Thistle to patch up the potholes using products that would otherwise be thrown away.
She also teamed up with Edgewater-based Chicago Mosaic School to patch a pothole near a Howard Street crosswalk and a sidewalk in West Ridge's Indian Boundary Park with decorative tile.
"I ride a bike and [the potholes] create a dangerous situation for all road users, "Rhodes said. "We'll see how these hold up. If so, I don't see why we shouldn't do more.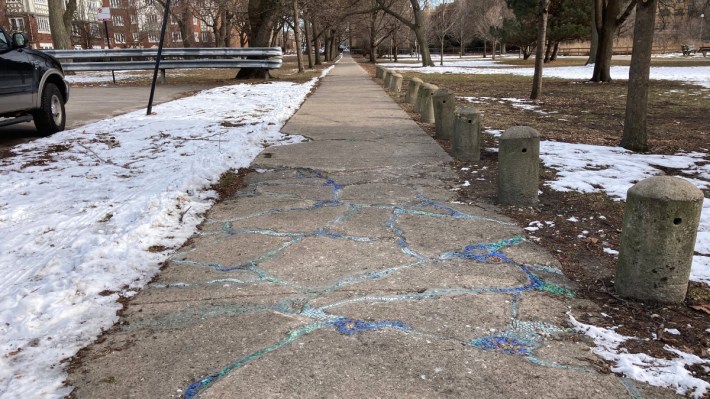 The artwork was quietly installed in November and no official announcement of the project has been made.
This led Rogers Park resident Bill Savage Tweeter about the art of potholes he encountered on a winter bike ride. His tweet called the project "an artistic mystery of Rogers Park" and prompted Twitter users to research the artists involved.
Someone on Twitter asked prolific Chicago pothole mosaic artist Jim Bachor if he was behind the installations. "Interesting, but it's not me!" Bachor said.
It turns out that Bachor was approached with an opportunity to join the Rogers Park Pothole Project.
Bachor gained national attention for his project, in which he filled the potholes with brightly colored mosaics. In a recent project, Bachor turned a series of potholes in Uptown into mosaics that denigrate the commodities Americans clung to (and hoarded) during the early days of the pandemic.
Bachor only remembered his near involvement in the project when a reporter asked him if he was responsible for the pothole art at Rogers Park. He wasn't involved, but he said it was "fun" for other artists to put their touches on a medium he championed, Bachor said.
"I like it," he said. "If I've influenced someone, it's kinda funny. It does not create confusion [about which artist is responsible for the work]. And I don't have the right to the street.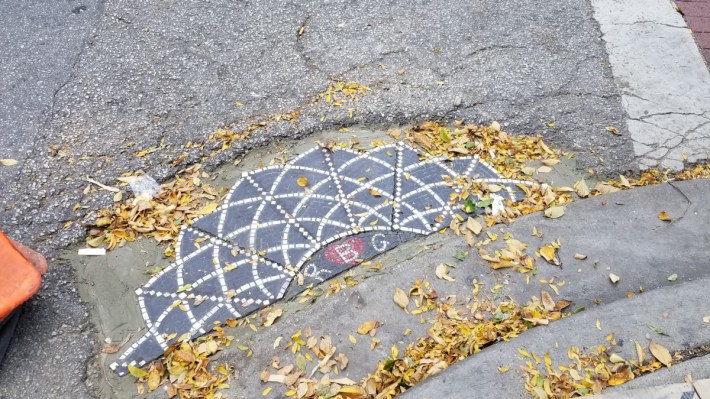 Rhodes said she initially contacted Bachor to collaborate. But when that didn't materialize, she contacted the Chicago Mosaic School.
School artists repaired the sidewalk in Indian Boundary Park using decorative tiles. In Howard and Paulina Streets, Mosaic School artist Casey Van Loon installed a Ruth Bader Ginsburg-inspired mosaic in a pothole.
In total, there are seven pothole or sidewalk installations in Rogers Park and West Ridge done in conjunction with the Rhodes Project.
Bike pothole repairs can be found near Greenview Avenue in North Devon, on Jarvis Avenue west of the Red Line, and on Rogers Avenue near Pottawatomie Park. Then there's the Howard Street Crosswalk mosaic and Indian Boundary Park sidewalk slabs.
Rhodes didn't want the exact locations given and wouldn't say where the last two facilities can be found.
This is because the art project aims to encourage people to go out and explore their neighborhood. In doing so, neighbors could find a smoother and more navigable infrastructure – and be rewarded by discovering a work of art where they least expect it.
Subscribe to Block Club Chicago. Every penny we report on Chicago neighborhoods.
Already subscribed? Click here to support Block Club with a tax deductible donation.